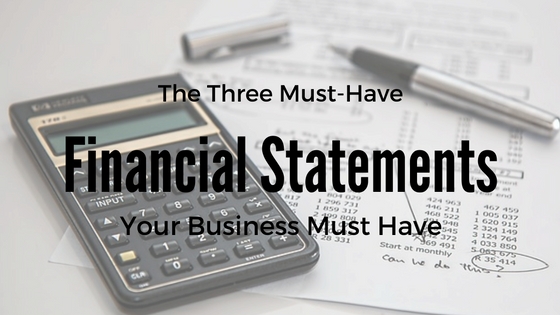 If you are a small business owner or entrepreneur, you need to understand the 3 basic, but very important, financial statements that will help ensure your business's financial success.

Tracking your capital and financial data in the right way is not just a minor annoyance for business owners, it's an absolute necessity. In fact, your business depends on your accounting and financial operations more than you probably think. If you don't properly track your finances, costs, expenses, and income inflow, you may misjudge just how much money your business actually has available.
If you are over your head with accounting tasks and can't keep up, contact our Pittsburgh Business Accounting Professionals to find out if you have everything you need - (412) 931-1617.
You will notice that when you stay on top of your accounting records, you aren't likely to run into mistakes so make sure to keep your financial information updated. Consistency is the key. To help you out, here are the top 3 financial statements that are a must for your business this year (and for the many next to come):
A Balance Sheet With A Balanced Equation
First and foremost is the balance sheet. Here is the formula every good business owner should know: liabilities + owner's equity = assets. A balance sheet lays out the ending balances in a company's asset, liability, and equity accounts. Current assets refer to cash or investments & inventory, while non-current assets refers to land, building, equipment, intangible assets, etc.  
The liabilities, on the other side, can be broken to short-term liabilities that include the accounts payable and taxes and long-term debt such as bank loans or notes payable to stockholders.
A Transparent Profit And Loss Statement
This statement is also referred to as an income statement and lets you project sales and expenses during a specific period of time, whether that is a few months to a year. It is a vital piece of a small business's accounting tasks.
The income statement follows a general form of revenue - expense = income. It begins with an entry for revenue, known as the "top line," and subtracts the costs of doing business, including cost of goods sold, operating expenses, tax expense and interest expense. The difference, known as the "bottom line", is net income, or profit.
Clear Cash Flow Statement
Last but not the least of the must-have financial statements is the cash flow statement.
This is the statement that highlights how much money is coming in and going out of your business. While the cash inflows may include cash sales, accounts receivable collections, loans payments made to your company, etc., the cash outflows include the equipment purchased, the expenses paid, the inventory and other payments.
In the end, it's important to note that financial statements are something you should never ignore. We know all business owners are extremely busy with managing the day to day tasks of their business, which is why we always encourage outsourcing not-as-glamourous, yet very important, accounting tasks to the pros. Contact us today if you need help with bookkeeping & small business accounting duties.