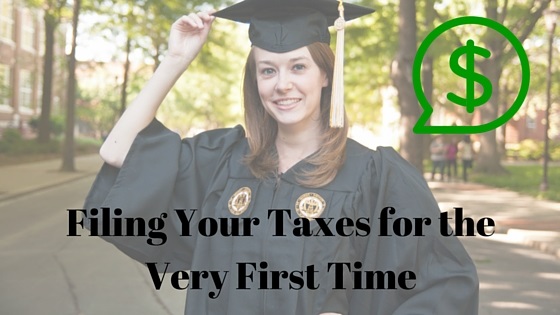 Experienced tax payers can feel intimidated by tax filing season, so it's understandable that a brand new taxpayer can quickly become overwhelmed when it comes time to file their taxes. Our Pittsburgh Tax Preparation Pros have pulled together some tips for filing taxes for the very first time. Even a novice taxpayer can successfully make it through their first filing season with these helpful tidbits.
Could you use help filing your taxes for the very first time? Contact our Pittsburgh Tax Professionals and we'll help you get your taxes in order for the best tax refund possible. (412) 931-1617
Tip #1 – Get Organized First
When it comes to tax preparation, documentation is key. Employers must send out W-2s by late January so you should receive your form by mid-February at the latest. The W-2 details your yearly salary, how much you made, and how much taxes were withheld. If you are an independent contractor, you will receive a 1099-MISC form from each company who contracted you. Taxes are not withheld on these types of jobs so you'll need to determine exactly what taxes may be due. You will also need to keep any other tax forms you receive such as interest or investment earnings, student loan interest deductions, or records of contributions paid to an IRA. Once you have all the appropriate documents, filing becomes a much easier process.
Tip #2 – Coordinate with Your Parents
College students looking to file their first tax return should coordinate with their parents first. If your mother & father plan on listing you as a dependent or plan to claim some of your college costs on their return, you will not be able to claim a personal exemption on your own return. To avoid filing issues and potential audits, discuss with your parents who should take the educational tax breaks.
Tip #3 – Choose How You Will File
There are multiple ways you can file your taxes, from tax software to a professional CPA to a franchise tax operation. Many experienced tax payers with simple situations turn to tax software to complete and file their returns but a new filer may benefit from the assistance of a tax professional. A professional can guide you through the process of claiming income and finding all of the pertinent deductions to help you reduce your tax obligations (or even gaining a bigger tax return), so it's worth paying a few dollars to ensure that your taxes are correct and you are getting the most out of your tax return.
Tip #4 – Don't Leave Money on the Table
When filing for themselves, taxpayers can often overlook deductions that can help save on taxes. This is especially true for new taxpayers. Here are a few tax deductions to remember:
State & Local Taxes – The IRS allows you to deduct state & local taxes using figures based on your income & location.
Charitable Contributions – You can deduct any donations to charities as long as you have receipts or pay stubs as proof.
Child & Dependent Care Credit – If you paid a provider for care of your child, children, or dependents, you can claim it as a credit on your taxes.
Job Search Expenses – The IRS allows deductions for job search related expense such as travel and resume printing services.
Earned Income Tax Credit – This is a credit that benefits lower income families and requires meeting specific income limits.
Tip #5 – Don't Wait Until the Last Minute
Because many new tax filers are intimidated by the complicated process of filing a tax return, they may procrastinate until the very last minute. Leave ample time before the April 15th tax deadline in case you run into issues, need to produce supporting documents, or have questions that need to be answered by a tax professional. If you need more time to collect data for your tax return, make sure to complete a tax extension – Form 4868 – to get a 6 month extension.