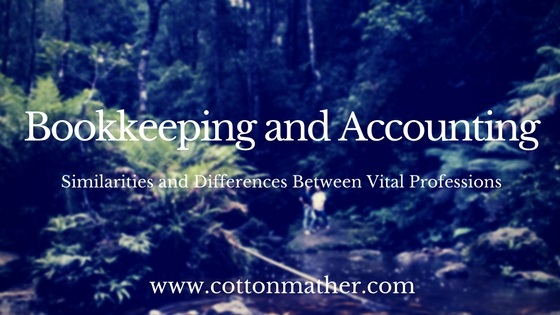 The Pittsburgh / North Hills PA area Accounting Professionals of W Cotton Mather CPA are here to help small business owners with their accounting & bookkeeping duties so they can get back to what really matters most - their business.
While all businesses require both bookkeeping and accounting services, the scope of services offered in each are different.  Succinctly, the main difference between these services is accounting includes data analysis and interpretation, while bookkeeping does neither. 
That isn't to say that bookkeeping isn't important to the financial health of a business.  Bookkeepers provide the first step of the accounting process by recording financial transactions in a variety of methods, chronologically tracking every transaction on a daily basis, whether paid or received.  There are several accounting software products that automatically perform many bookkeeping processes, which has led some bookkeepers to also create financial reports that classify and summarize the recorded data.  Typically referred to as full service bookkeepers, they possess an advanced skillset but are not considered accountants.
Do you have questions about bookkeeping or accounting? Contact Pittsburgh's best CPA service in North Hills for local help!
After data is recorded, the next step of the accounting process is to classify, interpret, analyze, summarize, and accurately report findings gleaned from the financial data.  This work is done by accountants, trained to perform these analyses and follow generally accepted accounting principles to convey the information in a manner easy to understand by their audience.  In doing so, accountants assist the leaders of their business in making informed decisions on the overall health and strategy of their company.
To many, bookkeepers and accountants are the same.  Both are deeply involved in financial data, recording transactions and can create reports using the data, especially with advanced financial software.  However, merely developing a basic understanding of accounting and taking a few college level courses is not sufficient to function as an accountant.  Accountants possess a Bachelor's degree at a bare minimum, with many states requiring that an accountant become licensed or certified, depending on the state, to perform accounting functions that require a higher level of expertise. 
In summation, accounting and bookkeeping are vital elements of the financial process.  Bookkeepers track, record, and classify data to build a foundation for the remainder of the process.  Accountants are qualified to perform the same work, and often check the work of bookkeepers for accuracy, but have the extra experience and qualifications to perform the entirety of the accounting process, from start to finish. 
Sales Experts, Consultants, Service Providers and other Self-Employed Professionals can count on us for financial management such as time tracking, billing, tax deductions, or multi-state complexities.
Our professionals not only help manage payables & receivables, prepare reports, assist with tax preparation, and track cash flow, we also offer bookkeeping assistance, sales & use tax planning.
From strategic tax planning, accounts payable & receivable, financial analysis, general ledger maintenance, bank reconciliation, and more, the experts at W Cotton Mather CPA is here to manage your most important financial issues to ensure that your firm stays profitable & healthy.