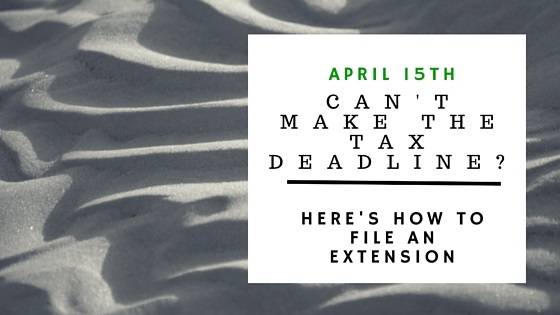 Need more time to prepare your federal tax return? Our Pittsburgh area tax pros have provided information on how to apply for an extension of time to file.
Ever since 1955, the Tax Deadline in the United States has been April 15th or the next business day if April 15th happens to fall on a weekend or holiday. Even though this has been the normal filing guidelines for over 60 years, it never fails that many people find themselves scrambling during the second week of April to get their records together and their forms filled out.
Luckily, if you find yourself among those individuals, the IRS offers a six-month extension. Whether you are waiting for missing records or are having issues finding the correct forms, you are able to file an extension for any reasons, and the IRS will grant them automatically as long as you have completed the proper form on time.
Do you have questions about filing an income tax extension? Contact Pittsburgh's best Tax Service in North Hills for local help!
By filing Form 4868, you can get a six month tax extension which will not only relieve the stress that comes with getting all of your tax records together on time, but also means you will get extra time to thoroughly review your return and ensure you are benefiting from all of the tax credits available to you. Using a professional tax service is a great way to determine what tax benefits you can use and to make sure you get everything you need during your six month extension.  
Keep in mind that filing an extension when you owe taxes only gives you more time to file, not more time to pay – your payment is still due at the April deadline. The extension is perfect for getting missing information or correcting inaccuracies on your tax forms. An extension will also allow you to take advantage of retroactive changes to the tax law that might be made after the April deadline, without the added time and expense of filing an amendment.
Since filing a tax extension does not excuse you from paying the taxes you owe, you should attempt to calculate how much you may owe in taxes and then pay that amount. You can use a tax estimator like TaxCaster to estimate how much you may need to pay to avoid hefty fines and penalties.
If you cannot pay your taxes due by the deadline, the IRS offers some payment alternatives that can help. There are 60 - 120 day extensions that will allow you to pay the balance and penalties at a lower interest rate, or you can work out an installment agreement with the IRS that lets you pay a set amount per month until your taxes due are finally paid off.
Note: Make sure to check with your local state tax service, as some states will accept an IRS extension while other states will require you to fill out a separate state tax extension form.
Form 4868, Application for Automatic Extension of Time To File U.S. Individual Income Tax Return 
Form 7004, Application for Automatic Extension of Time To File Certain Business Income Tax, Information, and Other Returns
Form 1138, Extension of Time for Payment of Taxes by a Corporation Expecting a Net Operating Loss Carryback