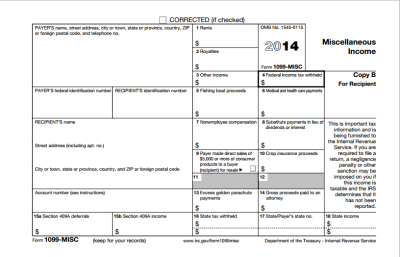 If we asked "Do you know exactly what a 1099 form is and when it's to be used?" would you answer yes? Unfortunately some companies don't know the answer to this question, and that can run them into trouble.   Here we'll present a general overview of the 1099. Your tax professional can answer any questions you may have that are related specifically to your business.
A 1099-MISC form is where a company records the amount of money it has paid a vendor – not an employee. A vendor can provide any number of services but does so on a contract basis. A company must provide a 1099 to all vendors to whom it has paid $600 or more during a given tax year.
This money is generally thought of as payment for services but can also include money spent on parts, materials, rents and a variety of other things that are considered income for the vendor. Vendors who are required to receive 1099s can be independent operators/sole proprietors, partnerships, companies with more than one employee and others.
Penalties for not sending 1099s
Sending out 1099s is not an option nor is sending them out after the January 31 deadline. For every form not sent, the IRS can levy a penalty of between $30 and $100 – that's per unsent form, with a max of $1.5 million for a tax year. If a company blatantly disregards sending out 1099 forms, it can incur a penalty of up to $250 per form with no maximum for a tax year.
There are some exceptions. A business isn't required to send 1099s to corporations or to show monies paid to real estate agents or property managers for rent – although property owners are required to receive this form.
Another exception is attorneys, only in reverse. Even if a law firm is a corporation, a company is required to send it a 1099.
The best way to manage the process of working with vendors and recording their income on 1099s is to start by having the vendor complete and submit a W-9 form. This form provides important vendor information such as mailing address, tax ID number (or social security number) and vendor filing status, so you'll know ahead of time if you're dealing with a corporation.
1099 forms aren't available for download on the IRS.gov website. To obtain them, you must order them directly from the agency and then pick them up at an IRS service center.
One final note, if you're submitting 1099s to the government, you'll also have to submit a 1096 form, which is due by February 28. If you have your tax preparation done by an accountant, he or she can submit both forms by the February 28 deadline.
W. Cotton Mather CPA specializes in taxes for small and medium-sized business. Our professionals are here to provide you with seamless service that's customized to your company's specific accounting needs. Call (412) 931-1617 with questions or for more information.