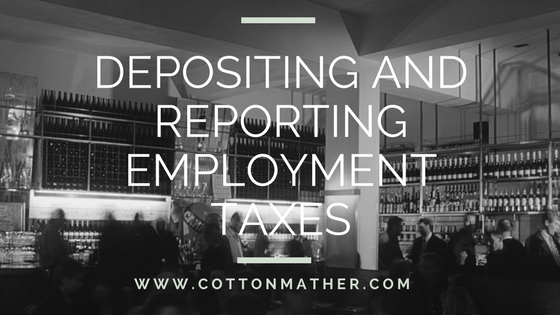 It's never a dull day in the life of a business owner! A typical business owner, whether you are here in Pittsburgh or somewhere else in the country, is full of daily tasks and activities that keep the business running smoothly. Accounting, bookkeeping, and tax reporting are just a few tasks that should never be neglected or overlooked. These duties often take a lot of time and know-how to get them done correctly and quickly. While the IRS provides business owners with a plethora of information, forms, and requirement explanations on IRS.gov, a Certified Public Accountant that offers tax preparation, bookkeeping, and reporting services is the perfect option for busy business owners.
A major concern for many business owners with employees is Employment Tax filing requirements. According to IRS.gov, as a business owner you are responsible for depositing withheld federal income tax, and both the employer and employee social security and Medicare taxes.
There are two deposit schedules, monthly and semi-weekly. Before the beginning of each calendar year, you must determine which of the two deposit schedules you are required to use. If you fail to make a timely deposit, you may be subject to a failure-to-deposit penalty of up to 15 percent.
Deposits for FUTA Tax (Form 940) are required for the quarter within which the tax due exceeds $500. The tax must be deposited by the end of the month following the end of the quarter.
Our Pro Accountants at Cotton Mather CPA in the North Hills area of Pittsburgh can help with complicated bookkeeping & accounting issues. Contact us today at (412) 931-1617. 
Here is everything the Internal Revenue Service has to offer on information regarding Employment Tax requirements:
Reporting Employment Taxes
Generally, employers must report wages, tips and other compensation paid to an employee by filing the required form(s) to the IRS. You must also report taxes you deposit by filing Forms 940, 941 and 944. An experience CPA (try our services as Cotton Mather CPA) can assist you with properly filling out and filing these forms.
Federal Income Tax and Social Security and Medicare Tax
In general, employers who withhold federal income tax or social security and Medicare taxes must file Form 941, Employer's Quarterly Federal Tax Return each quarter. This includes withholding on sick pay and supplemental unemployment benefits
File Form 943, Employer's Annual Federal Tax Return for Agricultural Employees if you are filling to report agricultural wages.
File Form 944, Employer's Annual Federal Tax Return if you have received written notification about the Form 944 program.
File Form 945, Annual Return of Withheld Federal Income Tax if you are filing to report backup withholding.
Federal Unemployment Tax Act (FUTA)
Only the employer pays FUTA tax; it is not withheld from the employee's wages. Report your FUTA taxes by filing Form 940, Employer's Annual Federal Unemployment (FUTA) Tax Return.
Preparing and Filing Form W-2
At the end of the year, the employer must complete Form W-2, Wage and Tax Statement to report wages, tips and other compensation paid to an employee. File Copy A of all paper Forms W-2 with Form W-3, Transmittal of Wage and Tax Statements, to the Social Security Administration (SSA). File Copy 1 to an employee's state or local tax department.
Due Dates
See the Employment Tax Due Dates page for filing and depositing due dates. For more information on depositing and filing these forms, refer to Publication 15, Employer's Tax Guide.