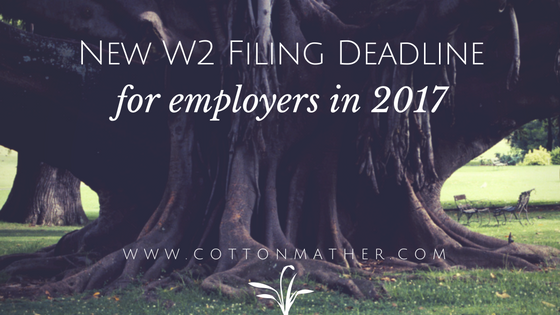 In order to assist the IRS in the detection and prevention of fraud, a new federal law has been enacted.  This law not only accelerates the filing deadline for W-2 forms to January 31st, but also mandates that the IRS must hold refunds that involve two specific tax credits until at least February 15th.  The PATH, or Protecting Americans from Tax Hikes Act, requires that employers submit W-2s to the Social Security Administration by January 31st each year, as well as some other forms such as 1099-MISC forms to independent contractors.  This law changes the original filing due date from the end of February for paper filers and the end of March for those who file these forms electronically.  In addition, a formerly automatic filing deadline extension has been changed, so that only one extension for thirty days is allowed, and only if an employer files an Application for Extension of Time to File Information Returns, also known as Form 8809.
Our North Hills CPAs work with local business owners to assist with tax preparation and tax filing. Contact us today at (412) 931-1617. 
The intention of the new deadline is to assist the IRS in spotting mistakes on taxpayer returns.  If the IRS has W-2s and 1099s earlier in the year, the agency has more time to verify and approve tax returns and issue the correct refunds to eligible taxpayers.  The end result is that the IRS will complete their analyses and release tax refunds to taxpayers faster than in previous years.  The January 31st deadline to furnish copies of these forms to employees has not changed.
However, enacting PATH will result in certain taxpayers receiving their refunds later than in previous years.  PATH requires that the IRS must delay releasing tax returns until February 15th that claim either the Additional Child Tax Credit or the Earned Income Tax Credit.  Not only are the portions that relate to these credits delayed, the entire tax return is delayed until that day under this new law.
Even with PATH in place, the IRS has strongly encouraged taxpayers to continue to file as they usually have, and not rely on a refund by a certain date.  Even though some returns will be delayed for further review, the IRS has a strong record, issuing nine out of ten refunds within twenty-one days of receipt.