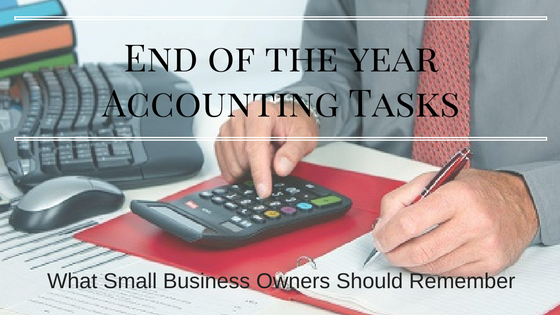 As October begins to near its finish, business owners large and small should begin thinking about closing their books.  While a business can and often does generate an overwhelming pile of paperwork, making sure all of it is in hand now will save a lot of trouble when it's time to file taxes next year.
Before beginning preparations, you as business owner should review your profits and loss statements.  These statements categorize expenses and give an overall view of how money has been spent over the past year.   This process can often be streamlined using accounting software, several of which are online and sync with bank accounts, credit cards, and a variety of other accounts and bills to provide automated accounting services.
Pittsburgh's most trusted small business accountants offer reliable and affordable business accounting services to help keep biz owners on track! (412) 931-1617
If your business has hired vendors, you should have their W-9 and 1099 forms ready for next year's tax preparations.  The government can use the W-9 forms not only to track your expenses but also to track the vendor's income from working for you.  It is mandatory to provide a 1099 for every vendor that you have paid $600 or more for their services in the past year.  This form must be completed by January 31 and in the hands of the IRS by February 28, or March 31 if you file electronically.  Several accounting programs may be helpful in keeping these reports straight, some of which automatically prepare certain 1099s.
Next, organize your receipts, reconcile your accounts and company credit cards, and check your inventory as needed.  Organization is key; your accountant does not want to receive a shopping bag full of uncategorized receipts.  You can use a software program that syncs with ongoing expenses, enter receipts into a program manually, or compile receipts by hand.  Whichever way you prefer to reconcile your receipts, organizing your receipts will allow you to account for and categorize your expenses.  In addition, you can reconcile receipts with your credit card and bank accounts to make sure all expenses match up with your ledger and other year-end statements.  In the midst of these preparations,don't forget to check your physical inventory and compare it with your balance sheets to show how much you've spent on inventory and its current value.  These preparations will make your and your accountant's lives much easier at tax time.
Additionally, you should review not only how money is coming into your business, but how it is being paid to your employees.  A good business owner keeps a system in place to track outstanding receivables and executes collection efforts accordingly.  One of the most effective ways to track receivables is through the use of software that outputs comprehensive reports, which can be backed-up and accessed over the internet or company intranet.  Using virtual storage saves space, allows easy accessibility, and eliminates most errors in math and reading others' handwriting.  Aside from the obvious issue of making sure employees have received their correct pay for the year, a business owner must also think at the end of each year about tax issues that may occur with bonuses, deferred compensation, and withholding for fringe benefits.  A good accountant will be able to help you identify these issues now, long before tax season begins.
Finally, a wise business owner ends their preparations with a final look at the profit and loss statements.  Having reconciled bank accounts, receipts, and any potential concerns versus the profit and loss statements, you can confidently hand your information to your CPA, bookkeeper, or accountant for counsel and tax preparation.