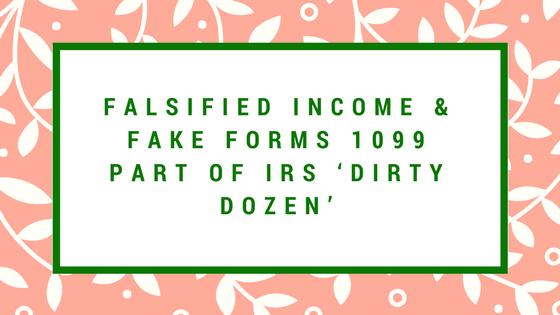 As part of this year's "Dirty Dozen" list of tax scams, the IRS wants taxpayers to be on the lookout for schemes that falsify income, including elaborate ruses involving bogus Forms 1099.
Our North Hills Tax Pros can help you understand and identify tax fraud. Contact us today at (412) 931-1617. 
Here is the important information gathered from IRS.gov on this common tax scam:
A common tax scam the IRS sees each year involves falsifying income. The agency warns taxpayers to avoid related schemes to erroneously claim tax credits as well as more elaborate schemes that scam artists peddle.
The "Dirty Dozen," a list compiled annually by the IRS, describes a variety of common scams that taxpayers may encounter. Many of these schemes peak during filing season as people prepare their returns or hire others to help them.
Scams can lead to significant penalties and interest and possible criminal prosecution. The IRS Criminal Investigation Division works closely with the Department of Justice to shutdown scams and prosecute the criminals behind them.
Don't Make Up Income
Some people falsely increase the income they report to the IRS. This scam involves inflating or including income on a tax return that was never earned, either as wages or self-employment income, usually to maximize refundable tax credits.
Much like falsely claiming an expense or deduction is improper, claiming income the taxpayer didn't earn is also inappropriate. Unscrupulous return preparers and people do this to secure larger refundable credits such as the Earned Income Tax Credit and it can have serious repercussions.
Remember, taxpayers can face a large bill to repay the erroneous refunds, including interest and penalties. In some cases, they may even face criminal prosecution.
Fake Forms 1099-MISC
The IRS cautions taxpayers to avoid getting caught up in schemes disguised as a debt payment option for credit cards or mortgage debt. This scheme usually involves the filing of a Form 1099-MISC, Miscellaneous Income, and/or bogus financial instruments such as bonds, bonded promissory notes or worthless checks. 
Con artists often argue that the proper way to redeem or draw on a fictitious "held-aside" account is to use some form of made-up financial instrument, such as a bonded promissory note, that purports to be a debt payment method for credit cards or mortgage debt. Scammers provide fraudulent Form(s) 1099-MISC that appear to be issued by a large bank, loan service and/or mortgage company with which the taxpayer may have had a prior relationship, all to help further perpetrate the scheme. Form 56, Notice Concerning Fiduciary Relationship, may also be used by participants in this scam to assign fiduciary responsibilities to the lenders.
Taxpayers may encounter unethical return preparers who try to lure them into these scams. It is important to remember that taxpayers are legally responsible for what's on their tax return even if it is prepared by someone else.