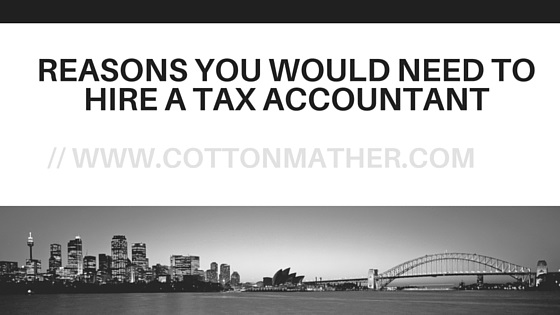 While filing income tax returns online is a convenient way to do simple returns, there are many people that have complex financial lives that make it more likely you will make mistakes or miss important opportunities to reduce your tax obligations.
In many cases, it will make sense to outsource what you don't enjoy spending large amounts of time on or what someone else can do better & faster. If you don't enjoy something and you can hire someone to do it better than you can and it doesn't cost too much, then outsourcing it to a good accounting team is the perfect solution.
Need help with personal or business taxes in the North Hills, Wexford, Cranberry or surrounding communities? Contact our Pittsburgh area accounting team for more info (412) 931-1617.
Here are some good indications that it's time to hire a Pro Tax Accountant:
You earn more than $200k per year.
The odds of being audited rise significantly if you earn more than $200k.  Having an accountant who can handle audits and prepare your for this difficult situation can save you money, time, and hassle.
You receive K-1s.
Partners in a business and shareholders in an S corp typically receive K-1s. Some ETFs will even issue K-1s as well. While one or two K-1s are relatively simple to include in your tax return, online/software programs like TurboTax are not equipped to handle many.
You own a business or rent real estate.
A good accountant can help you find will identify opportunities to minimize taxes by depreciating business or real estate assets.
You are Self-Employed.
If you are an independent contractor or are self-employed, you generally receive a 1099 form. In order to reduce your tax liabilities, you will need to have a thorough understanding of tax laws to find all of the deductions or credits your are entitled to. A knowledgeable tax professional will be able to help reduce your self-employment tax and tax obligations by finding deductions you may not even be aware of.
You plan to make a large gift.
Making a large donation or gift to family members or friends is not as simple a transaction as you might think. An accountant can help inform you on the tax advantages of different gifting options, including using your retirement plan as a source of funds or employing a donor advised fund.
You have material foreign source income.
If you own foreign ETFs, mutual funds or stocks of foreign companies (including some you may not immediately recognize as foreign, such as Nestle or British Petroleum.) an accountant will have the knowledge on how to report these correctly on your tax filing forms.
You anticipate big capital tax gains.
If you will be acquiring a big capital tax gain this year, an accountant will help you plan so that the gain is taxed at long-term rates. They will also help you find other ways to minimize taxes, like employing the Qualified Small Business Tax Credit or tax-loss harvesting.