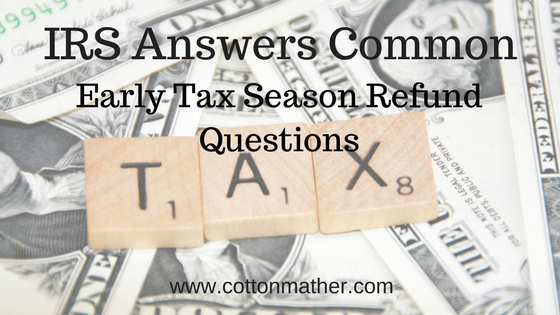 As tax season ramps up, the Internal Revenue System issued a press release to let taxpayers know when they will have details regarding their tax returns to avoid confusion and misunderstanding from the American public.  There are a number of rumors being spread, and most of them are entirely false.
First, recent legislation has led many taxpayers to believe that all tax refunds in 2017 will be delayed.  It is true that legislation requires refunds for the Earned Income Tax Credit or the Additional Child Tax Credit to be held until the middle of February, and other stricter anti-fraud and identity provisions may result in a delay in processing.  However, the vast majority of tax returns will still be issued in the normal time frame, approximately three weeks from the filing date.  Hand in hand with this mistaken idea is the idea that refunds for the Earned Income Tax Credit or the Additional Child Tax Credit will be delivered on exactly February 15.  Processing of all refunds that include these tax credits will begin on February 15, but the refunds likely will not be paid until close to the end of the month, including bank processing times.
We can help answer questions relating to tax return refunds and more! Call our Pittsburgh tax professionals at (412) 931-1617. 
Another rumor suggests that if taxpayers call their tax professional, or even the IRS, they will receive the date that they will receive their refund.  However, the IRS has a tool, found both as a mobile application (IRS2Go) and at IRS.gov, entitled, "Where's My Refund?" that allows taxpayers to check the status of their refund from the comfort of their homes or on the go.  "Where's My Refund?" is updated once a day, and has the same information available to an IRS operator, so there is no reason to call unless prompted by the tool. 
"Where's My Refund?" is a simple and easily accessible tool to allow taxpayers to quickly check the status of their refunds.  Taxpayers may begin to check their status within 24 hours of the filing of an e-filed return or four weeks after receipt of a mailed paper return.  Taxpayers may then use the website or mobile application to log in and use information from their current and pending tax return to access the status of their return.  "Where's My Refund?" then tracks the progress of the return through three stages: Return Received, Refund Approved, and Refund Sent.
Many taxpayers are also operating under the mistaken idea that ordering a tax transcript will expedite the refund process.  However, the tax transcript should only be used for validation of past incomes and status of loan applications.  The best method for a taxpayer to check the status of their refund is with the "Where's My Refund?" tool.
Finally, some taxpayers may believe that "Where's My Refund?" is showing incorrect information when no deposit date is showing on the website or mobile application.  As stated earlier, refunds will most likely not begin to be reflected in bank accounts until the end of February, as long as there are no issues with the return itself and taxpayers select to receive their return via direct deposit.  In addition, President's Day may impact timing, as most banks and other financial institutions do not process payments during weekends or holidays.
The IRS is encouraging taxpayers to take advantage of the new and advanced technology existing to easily check their refund status using the "Where's My Refund?" tool, saving both the IRS and taxpayer time and energy over the already-stressful tax season.