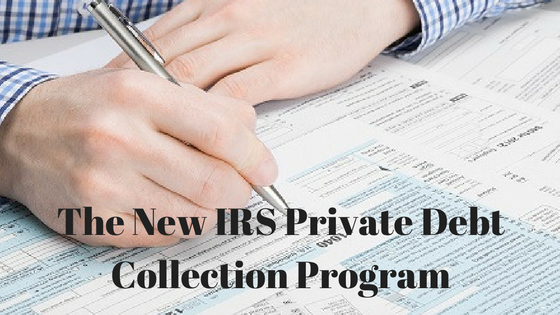 The Internal Revenue Service (IRS) has had its budget cut by close to a billion dollars over the last four years.  As a result, the IRS will begin an aggressive new program to collect overdue federal tax debts in 2017.  With the authorization of Congress, the IRS has selected four private contractors to collect outstanding inactive tax debts on behalf of the United State Government.  These contractors will collect on specific accounts where money is owed to the Government, but the IRS is no longer actively working to collect due to their age or lack of resources available to the IRS. 
If you have questions for our tax experts in Pittsburgh PA Allegheny County, give us a call at (412) 931-1617. 
These new contractors working with the IRS are:
CBE Group
1309 Technology Parkway
Cedar Falls, IA 50613
ConServe
200 CrossKeys Office Park
Fairport, NY 14450
Performant Recovery
333 North Canyons Parkway
Livermore, CA 94551
Pioneer Credit Recovery, Inc.
325 Daniel Zenker Drive
Horseheads, NY 14845
The IRS will also give written notice to each taxpayer and their representative when their account is transferred to one of these contractors, and the contractor will subsequently send a letter to both the taxpayer and their representative, where applicable, confirming the transfer of their account.
These contractors have not been written a blank check; while they may identify themselves as representatives of the IRS, collecting taxes due to the Government, they must still abide by the provisions of the Fair Debt Collection Practices Act and other consumer protection laws.  The IRS has required that employees of these contractors are courteous, respect the taxpayers they are contacting, and always abide by all fair debt collection laws to maintain the taxpayer's rights.
In this time of transition, the IRS has promised to work diligently to guide taxpayers through this new process to avoid confusion and understand not only their obligations to the Government, but their rights as taxpayers and citizens.  In addition, the IRS has promised to continually inform taxpayers about scams, such as several scams where callers impersonate IRS agents and demand immediate payment, and ways taxpayers may protect themselves.  The contractors will not ask for payments via prepaid debit cards, such as requested in several scams.  Taxpayers may find electronic payment options on the IRS website, www.irs.gov/payments, or may pay via check payable the U.S. Treasury, not one of the contractors or any other agency.