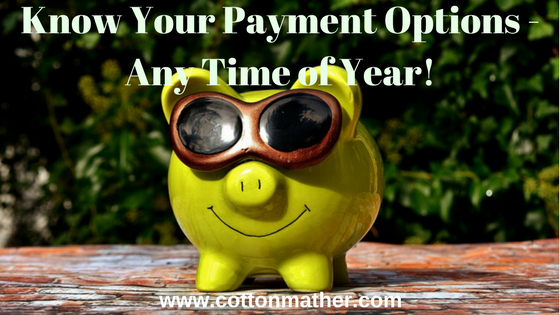 When it comes to taxes and tax payments, the thought of not having enough money to cover your tax liability can be overwhelming and stressful.The IRS understands that taxpayers who owe money need choices on how they can make payments to the agency. Luckily for us, the IRS actually offers three easy ways to pay taxes. Taxpayers can pay online, by phone or with their mobile device using the IRS2Go app. Plus, you can explore these payment options anytime of year, which helps relieve some last minute pressure to come up with enough money to cover owed taxes.
The tax team at Cotton Mather CPA in the North Hills area of Pittsburgh can help you with complicated tax issues and tax payment questions.  Contact us today at (412) 931-1617. 
If you are a taxpayer that must make quarterly estimated tax payments throughout the year (this category includes sole proprietors, partners, and S corporation shareholders or anyone who expects to owe $1,000 or more when they file. Check out these four payment options:
Contact our tax accounting team for more information or help with filing your personal or business taxes.