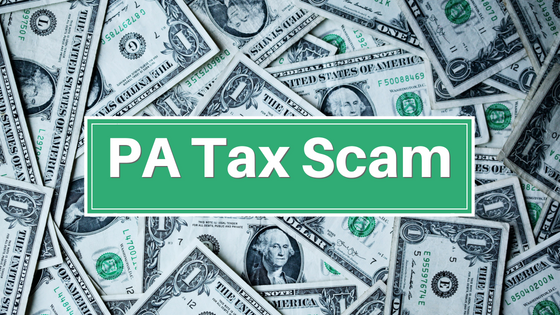 Tax scams are nothing new to most citizens across the country. Every year, the Internal Revenue Service puts out a list of scams that include common methods con artists use to deliver fraudulent communications to unsuspecting tax payers. It's not often you hear of tax scams focused on state taxes, but Pennsylvania's Dept of Revenue wants to warn its citizens of recent fraudulent notices that citizens in the state have been receiving.
Our Pittsburgh Tax Pros can help you with tax preparation and tax scam questions. Contact us today at (412) 931-1617. 
Pa.gov has issued the following warning:
According to Dauphin County officials, a number of residents have recently reported receiving notifications through the mail from the "Tax Processing Center." The notices say the recipient owes "The State of Pennsylvania" unpaid taxes and a "warranted lien" has been issued in their name.
The notices pressure recipients to immediately call the phone number provided to avoid criminal penalty, property seizure and civil proceedings. The notices say the phone number provided will connect callers with a "Levy and Warrant Officer."
Tips to avoid tax scams and con artists
The Department of Revenue is encouraging Pennsylvanians to keep the following tips in mind to safeguard against this scam and others:
Look for imposters: Many times con artists will pose as a government entity or an official business. If you are targeted by a con artist through the mail, phone or email, do not provide personal information or money until you are sure you are speaking to a legitimate representative.
Examine the notice: Con artists often design vague communications to cast a wide net to lure in as many victims as possible. Examine the notice for identifying information that can be verified. Look for blatant factual errors and other inconsistencies, such as a fake return address. If the notice is unexpected and states 'This Is Your Final Notice,' take a moment and verify its legitimacy. The Department of Revenue will send multiple letters to taxpayers if there is a legitimate liability owed.
Unusual payment methods: Avoid scenarios where you are asked to pay your debt with re-loadable debit cards, gift cards or money wiring services. The Department of Revenue and other government agencies will never ask you to satisfy an outstanding liability using these payment methods.
Confide in someone you trust: Con artists will use aggressive tactics to rush a person to make an immediate payment to avoid legal action or prosecution. If you have any questions at all about the legitimacy of a notice you receive, slow down and talk to someone you trust.
Conduct research online: Using information included in a potentially fraudulent notice, such as company name, address or telephone number, conduct a search online to see if a scam has been reported by other people or government agencies.