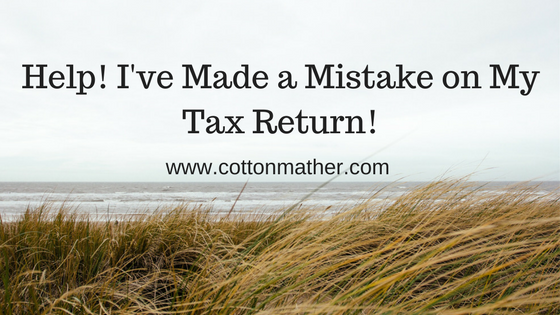 Tax time is stressful for everyone, businesses and individuals alike. What happens if you've already filed your tax return but realize there is a mistake? Our Pittsburgh area tax experts discuss your options in today's blog post.
Our North Hills CPAs & Tax Preparers help with Amended Returns.   Contact us today at (412) 931-1617. 
The solution to your problem will depend on what type of mistake was made. According to the IRS:
Many mathematical errors are caught during the processing of the tax return and corrected by the IRS, so you may not need to correct these mistakes.
If you didn't claim the correct filing status or you need to change your income, deductions, or credits, you should file an amended or corrected return using Form 1040X, Amended U.S. Individual Income Tax Return.
When filing an amended or corrected return:
Include copies of any forms and/or schedules that you're changing or didn't include with your original return. To avoid delays, file Form 1040X only after you've filed your original return. Generally, for a credit or refund, you must file Form 1040X within 3 years after the date you timely filed your original return or within 2 years after the date you paid the tax, whichever is later.
Allow the IRS up to 16 weeks to process the amended return.
If you've filed early, but you catch a mistake before on your return before the tax deadline hits for that year, you can avoid penalties and interest if you pay the remaining tax balance before the filing deadline.
Our expert tax professionals can help clients prepare an amended return and get everything back in order. Don't stress, call Cotton Mather CPA today!