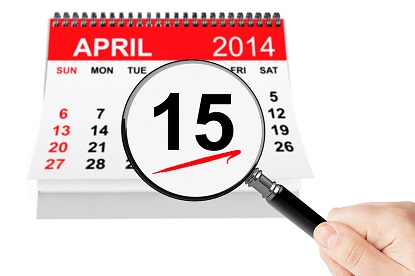 If you are expecting a possible tax refund, there has never been a better time to file early, since it has been widely reported that delays in processing can be expected. The Affordable Care Act (ACA) is one of the factors expected to slow the Internal Revenue Service (IRS) this tax season. Whether you have a refund to look forward to or not, it can be a costly mistake to miss the April 15 deadline for filing taxes or for filing an extension. The best approach to handling year-end taxes is often to hire a professional, especially in light of the fact that there are changes from year to year and sometimes even in the same year that can make the process complex and confusing.
Reasons to Hire a Professional Tax Preparer
Other reasons to consider hiring a professional to prepare your taxes include:
You need to file both personal and business taxes.
The thought of preparing taxes yourself is upsetting.
A filing extension is needed.
Your records may not be complete or well-organized.
The assistance and evaluation of an expert could be valuable in helping you get your books in order.
Professionals provide the benefit of ensuring that you maximize on the deductions available to you, which means more money in your pocket. What qualifies as a legitimate deduction may not be the same this year as it was in previous years, and professionals are familiar with current opportunities to cut taxes and avoid costly mistakes.
Mistakes to Avoid when Filing Taxes
Preparing taxes can be confusing, time-consuming, and stressful. One way to tackle to stress of dealing with taxes is to be organized and thorough. The following checklist can help you avoid making common mistakes associated with April 15:
Keeping good financial records throughout the year can help you avoid the first common mistake, which is failing to organize and collect documentation needed for preparing taxes. The records include canceled checks, receipts, and any other documents which support the figures you enter on your tax return with regard to income, credits, and deductions. The number one way to avoid overpaying on your taxes is with good recordkeeping practices. The aforementioned documentation is what the IRS goes by, to determine how much you owe or how much you get back.

Filing taxes late is another common mistake that is made every April 15. It is more costly to be late to file or to neglect filing an extension than it is to file on time, even if you are unable to pay taxes owed by the deadline. Penalties are lower on late payment as opposed to late filing, and the IRS is usually always willing to work with an individual on paying what is owed in a way that fits his or her budget.
People have their identities stolen every year by people posing as agents of the IRS who contact them through email or by phone to request protected information, such as Social Security numbers. The IRS does not contact people through email or text to request financial or personal information.
See this continuing series to learn more mistakes to avoid and to learn about some deductibles that apply for tax year 2014.