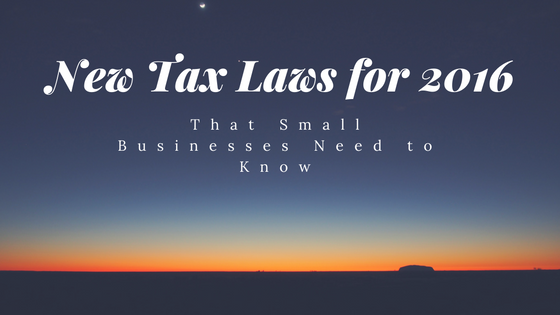 Small business owners have several benefits to their jobs, including control over their company and flexibility that only a small owner can have.  However, these benefits are diminished by the difficulties faced during tax season.  In 2016, new laws were enacted and other laws amended, and a savvy small business owner needs to keep these laws in mind as tax season rapidly approaches.
If you are a small business owner, contact our Pittsburgh area CPAs! We can help you with all of the new tax laws for 2016 that can complicate business tax preparation.
The Protecting Americans from Tax Hikes, or the PATH Act, was included within the United States Budget (also known as the Consolidated Appropriations Act of 2015 for those keeping score), passed in December 2015.  Under the PATH act, small business owners have several new deductions they may take advantage of, including purchases of personal property such as machinery and other equipment for use in their companies.  The Section 179 deduction was extended allowing owners to deduct up to $500,000 from the cost of property used for business purposes more than half the year.  The minor caveat to this deduction is that an owner can only purchase a maximum of $2,000,000 of Section 179 eligible commercial property.  In addition, owners may also deduct costs of improvements made to specific commercial property types.  Owners may also reduce their tax burdens by hiring members of designated groups, with examples including recipients of food stamps and veterans. 
The PATH act also resurrected bonus depreciation laws that expired in 2014.  Small business owners may once again use depreciation to mitigate costs from new assets, allowing a 50% from 2015-2017.  Unless these depreciation bonuses are extended after 2017, the value will likely drop to 40% in 2018 and 30% in 2019.
The Affordable Care Act (ACA) will continue to present challenges in 2016.  While the ACA created incentives to provide their employees' health insurance, companies with 50 or more full time employees are now required to offer healthcare due to the act.  Businesses that fall into this category that fail to do so will be subject to statutory penalties.  However, smaller businesses that employ fewer than 25 employees and choose to cover a majority of the premium costs (50% or more) should speak with their tax preparers about their eligibility for help using the Small Business Health Care Tax Credit.
Small business owners must also keep abreast of state and local tax laws.  These laws change independent of the aforementioned federal laws, such as when New York recently reduced its business income tax rate, which can create a savings to New York small businesses of $125,000,000.  A savvy business owner must stay up to date on potential savings such as rate reductions, but also be aware of potential increases that may occur via different changes.
While April 15th is a day most Americans dread as the deadline for filing taxes, most Americans actually have until April 18th.  In addition, Maine and Massachusetts taxpayers will have until April 19th to file because of observance of Patriot's Day on the 18th. 
These due dates don't affect all businesses equally.  S Corporations and C Corporations usually must file their returns by March 15th, while sole proprietors or partnerships must file by April 18th, with an exception for corporations that have fiscal years differing from the calendar year.  In that exception, the return is due on the 15th day of the fourth month following the corporation's fourth quarter of its fiscal year.  Most businesses, large and small, may still file an extension of up to six months.  Companies that choose to do so must send their request with an estimated payment by whichever due date applies.  Companies that don't do so risk the IRS ending the extension period.  Owners who underpay or pay nothing can incur large fees from the IRS.
While small business owners have a lot to think about during tax season, there is always plenty of information to help on the IRS website and through consultations with a qualified account or tax preparer.