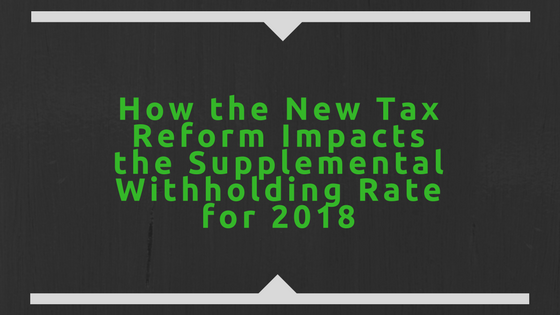 Right before the arrival of the New Year, the US government passed the "Act to provide for reconciliation pursuant to titles II and V of the concurrent resolution on the budget for fiscal year 2018," or otherwise known as the Tax Cuts and Jobs Act. As an employer you may be uncertain about which withholding rates to use in 2018 for supplemental wages so we've put together a brief summary of Notice 18-14.
Our North Hills Accountants & Tax Pros help with Tax Preparation. Contact us today at (412) 931-1617. 
For a full explanation and to read the entire IRS Notice, CLICK HERE.
Here is a brief summary of the main points: The notice (1) extends the use of the existing 2017 Form W-4, Employee's Withholding Allowance Certificate, to claim exemption from withholding for 2018 until the IRS can issue a new 2018 Form W-4; (2) temporarily suspends the Sec. 3402(f)(2)(B) rule that employees must notify their employers of changes in status that affect their withholding within 10 days; (3) provides the new rate of optional withholding on supplemental wages; and (4) provides that withholding on periodic payments (such as for annuities) under Sec. 3405(a)(4) when no withholding certificate is in effect is based on treating the payee as married and claiming three withholding allowances.
For employers, it's important to remember that since the Tax Cut & Jobs Ace lowered income tax rates at the beginning of the year (2018), the rate that should be withheld on supplemental wages is also lowered from 25% to 22%. The IRS encourages employers to implement this new lower withholding rate as soon as possible but not later than Feb. 15, 2018. Employers also have the option to correct overwithholding at the old 25% rate for wages paid between Jan. 1 and Feb. 15 under the rules applicable to corrections of overcollections of federal income tax.
If you have any questions regarding the new tax withholding requirements, please give the team at Cotton Mather Accounting Group a call and we will be happy to assist you.