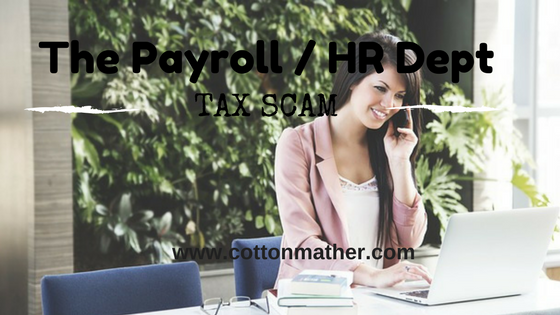 Last year, a new tax scam by cybercriminals was seen across the nation. Scam artists were able to trick payroll and human resource officials into disclosing employee names, SSNs and income information which led to identity theft and damages.
Pittsburgh's most trusted tax & business accountants offer reliable and affordable year end corporate tax preparation. Call our tax professionals at (412) 931-1617. 
Within the first month of 2017, the IRS has received new notifications that this email scam is once again making its rounds across the nation. The IRS urges company payroll officials to double check any executive-level or unusual requests for lists of Forms W-2 or Social Security number.
This elaborate scam is designed to use a corporate officer's name to request employee Forms W-2 from unaware employees of a company payroll or human resources department.
The thieves use these stolen W2s to file fraudulent tax returns for tax refunds. This form of "phishing" is known as "spoofing email" and is known to contain the actual name of a company CEO, director, or other high level manager. In one variation, the "CEO" sends an email to a company payroll officer or human resource employee requesting a list of employees and information that can include SSNs, income, and other personal information that will allow them to use these details to file false tax returns.
Here is what the IRS has warned companies to look for within the email:
Kindly send me the individual 2016 W-2 (PDF) and earnings summary of all W-2 of our company staff for a quick review.
Can you send me the updated list of employees with full details (Name, Social Security Number, Date of Birth, Home Address, Salary).
I want you to send me the list of W-2 copy of employees wage and tax statement for 2016, I need them in PDF file type, you can send it as an attachment. Kindly prepare the lists and email them to me asap.
Each year, the IRS, Security Summit, and state tax industries work together to fight against and prevent tax-related identity theft. With technological innovations, cybercriminals are able to use more sophisticated tactics to try to steal personal data which will allow them to impersonate tax payers and receive their tax refund fraudulently. If you have any questions on the legitimacy of a tax related email, please feel free to give our accountants and Tax Experts a call at (412) 931-1617.