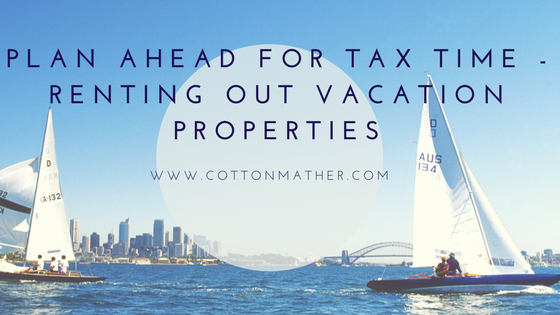 Traditionally, summer is one of the most popular times to take vacation.  While many go on vacation, many others choose to rent homes to vacationers.  While cleaning and maintaining the home will always be a part of renting a home, owners of these homes need to understand potential tax liabilities, whether the home is a residential or vacation home.  When an owner receives rental income for a home also used as a personal residence, the income usually must be included on the owner's next tax return.  However, the tax burden may be reduced by deducting certain kinds of expenses on that tax return. 
Our Pro Tax Accountants at Cotton Mather CPA in the North Hills area of Pittsburgh can help with complicated tax issues. Contact us today at (412) 931-1617. 
The first important classification for tax purposes is whether or not the home is a "dwelling unit."  This may be a house, apartment, condominium, boat, vacation home, or any similar type of property.  More than one dwelling unit may be used as an owner's residence during a tax year. 
What is a residence?  One of the aforementioned dwelling units is a residence if an owner uses the unit for personal use during a tax year for the greater of 14 days or 10% of all days the unit was rented to others at a fair market rental price.  It is important to note that rental expenses can't be greater than rent received.  Personal use is further defined as use by the owner or their family, friends or owners of other properties and their families.  This use includes any renters paying less than a fair market rental price.
Rental income for a home or other dwelling unit that is used as a residence must usually be reported in full on the owner's next tax return.  This income is usually reported in full and divided based on situation between business and personal expenses.  However, if the dwelling is rented to a tenant for fewer than 15 days in a given tax year, no rental income is reportable and conversely no expenses on the dwelling are deductible. 
Owners may report their income and expenses on rental units on Schedule E, Supplemental Income and Loss, and the income may be affected by the Net Investment Income Tax.  Additionally, costs such as taxes on the property, casualty losses, and mortgage interest may be deductible expenses, and the owner may report them as Itemized Deductions on Schedule A. 

If you have questions regarding rental income, please consult with your personal tax accountant. The team at Cotton Mather CPA is ready to help you navigate the complicated and sometimes confusing requirements of earning extra income through rental properties.