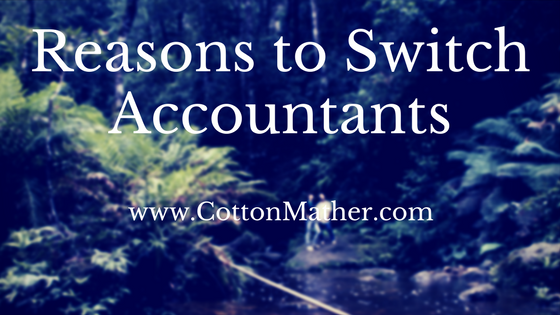 Switching accountants is a big decision for business owners and should not be taken lightly. The relationship between accountant and business owner is a personal one, and cutting off a relationship with a trusted business advisor can be extremely difficult to do.
Loyalty may be a staying factor, but statistics show that just under 40% of clients are dissatisfied with their current accounting situation. Businesses, no matter what size, cannot afford setbacks, especially where tax and compliance are concerned. That's why many businesses choose not to switch accountants, even when they are not satisfied.
Our Pro Accountants at Cotton Mather CPA in the North Hills area of Pittsburgh can help with complicated bookkeeping & accounting issues. Contact us today at (412) 931-1617. 
Here are top non-negotiable reasons to switch accountants:
---
They are not proactive in saving business owners tax liabilities

They never evidently try to find solutions to help you pay less tax. They never offer advice tax planning or personal benefits. They simply fill out your tax return, prepare your financial statements and send you a bill.
They're late with filing important tax requirements

Your information is ready by the end of January, but for some reason your tax return is always put on extension and filed 6 months after the original due date. This is a signal that you are not a valued client to them.
They are unable to explain things in a way you can understand
It's simply not true that all accountants are poor communicators. It is true that some accountants use industry jargon as a way of keeping their clients in the dark and making themselves seem all that more valuable.
They don't "get" your business
If your accountant does not take the time to understand what your business is about – or if they are not interested in what makes your business 'tick', there's a chance they won't be very effective at identifying opportunities for you. You want to work with people who believe in your visions as much as your bottom line.
They are never available to meet or speak with you

Accountants need to be available for those urgent problems or requests, and they should be able to offer you the time you need.
You never know what they will charge you, or they charge you unexpected or additional fees without warning you
Accounting fees should always be transparent, and you should have options for paying fixed monthly fees too.
They perceive that you are more interested in last year's accounts than planning for the future
You want someone to believe in your big-picture possibilities, to lead you through a business accounting path that makes the ups and downs more manageable and rewarding.
They don't stay up to date with the latest technology
You are leveraging technology and you should expect your accountant to do the same, whether it's working in the cloud or digitizing more of your environment.