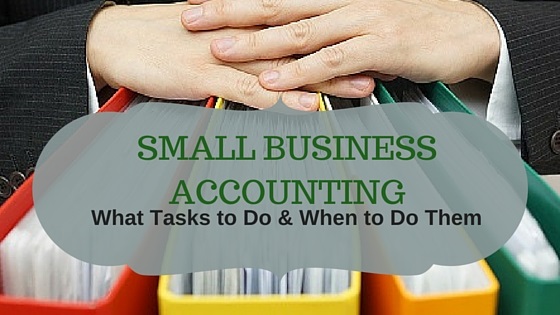 Small business accounting & bookkeeping, although important is often seen as a burden for most business owners. A successful business needs proper financial reporting in order to monitor fiscal health. These tips will help.
Could you use some small business accounting help? Contact our professional Pittsburgh CPAs and let us help you create a successful small business budgeting plan. (412) 931-1617
Most business owners find that managing their business finances is drudgery and will often put off important bookkeeping & accounting tasks, thinking that there will be time to do them later. This can have a detrimental impact on your business finances, so we've pulled together some tips for breaking down your accounting tasks and making them more manageable. The following checklist discusses the recommended timeline for daily/monthly/yearly accounting functions so you can keep track of the fiscal health of your business and streamline tax preparation.
Daily Accounting Tasks
Check Cash Position: Cash is the lifeline of your business so your cash reserves should never be running on empty.
Weekly Accounting Tasks
Record Debit/Credit Transactions: Keep track of every transaction from paying your vendor bills to receiving cash from customers.
File Your Receipts: You should keep copies of the invoices you send out, the cash payments you receive, and any cash receipts you get for purchasing inventory or paying bills.
Review Unpaid Bills: It's important to keep an "Unpaid Vendors" folder to file records/bills from each of your vendors. You will need to note amount dues & payment due date. You should always pay your vendor bills on time to avoid unnecessary penalties or fees.
Pay Vendor Bills: Once you have tracked your accounts payable, it's time to sign the checks. Make your payments on time to maintain a favorable relationship with your vendors and keep copies of all of the bills received and payments made.
Send Out Customer Invoices: Each week you should send out your customer invoices. Invoices should include payments terms and when payment is due. If you want to get paid sooner, try offering early payment incentives like a percentage off or a small discount.
Monthly Accounting Tasks
Balance Your Business Checking Account: Take time monthly to reconcile your business checkbook to ensure that your business transaction entries are accurate. This will help you determine your correct cash position and correct any errors that may have occurred.
Analyze Inventory: If your small business has inventory, set aside a time each month to reorder products, identify overstock, or determine if products should be marked down to get them sold.
Process Payroll & Approve Tax Payments: Even if you have a schedule (biweekly or semi-monthly) to pay your employees, you still need to meet payroll tax requirements. Use this time to make sure you are withholding, reporting, and depositing applicable income tax, social security, Medicare & disability taxes for federal, state, and local agencies. Using a payroll service is a great way to avoid issues and save time and money on payroll tasks.
Review Profit & Loss: Your income statement (profit & loss statement) tells you how much you've made and how much you've spent. You should take time each month to compare it to your budget and compare your actual numbers to your planned numbers so you can make changes accordingly.
Quarterly Accounting Tasks
Make Quarterly Payments for Sales Tax: If your small business operates in a state that requires sales tax, you will need to make quarterly payments to comply with your state tax obligations.
Determine Estimated Income Tax & Make Payment: The IRS and some states will require you to pay estimated income taxes. Review your year-to-date Profit & Loss Statement to determine if you owe any estimated taxes. Our professional accountants can assist you with filing & payment for business owners who don't have the time or experience necessary for this crucially important task.
Annual Accounting Tasks
Review Past Due Receivables: At least once a year, you should be checking in on significant past due receivables and determine whether or not you think customers will pay or whether you will need to send past due bills to a collection agency.
Review Inventory: At the end of the year, take a thorough review of your current inventory and determine the value of the items that have not been sold. These can be written off as a deduction on your year-end taxes so that you are not overstating your inventory and paying additional taxes that you shouldn't owe.
Fill Out W-2s & 1099s: You must fill out and send W-2s for your full-time employees and 1099-MISC for independent contractors by Feb 1st. You must also file with the IRS no later than February 28.
File Taxes: At tax time, carefully review your company's full-year financial reports before giving them to your accountant. Check for accuracy based on your full-year financial reports and keep all of your receipts and financial documents handy in case of an audit.