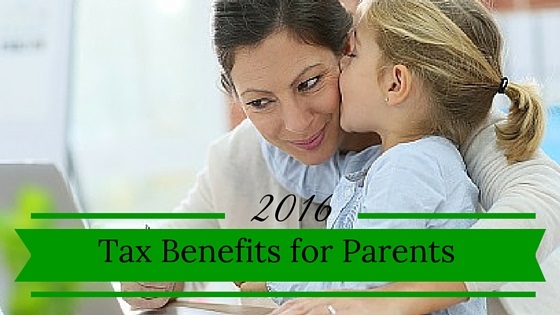 If you are a parent, you won't want to miss this excellent tax benefits when you file this year's federal tax return!
A child brings great joy for parents, but child care, college tuition, and the general cost of living with a child can prove to be difficult for many families. Luckily, that sweet child (or children) of yours can help you get some serious tax breaks on your federal income tax return. From child care to educational costs, and even supplies, don't forget to take advantage of these excellent tax credits for parents.
Do you have questions about tax deductions and credits you can take advantage of for being a parent? Contact Pittsburgh's best Tax Service in North Hills for local help!
Dependents - In most cases, parents will be able to claim their child as a dependent. The IRS allows you to deduct $4,000 for each dependent you are entitled to claim. You will need to reduce this amount if your income is above certain limits, but you can change all of the rules for determining dependent deductions here: Publication 501.
Child & Dependent Care Credit - This is a credit that you can claim if you paid for the care of one or more of your children in order to work or look for work. Children & dependents under the age of 13 qualify for this expense credit. You will need to know the EIN of the day care/child care provider or the social security number of the nanny or child care worker you use.
Child Tax Credit - Some parents can claim the Child Tax Credit for every qualifying dependent child under the age of 17. The maximum credit per child is $1,000, however if you qualify for less than the full amount, you could still be eligible for the Additional Child Tax Credit.
Adoption Credit - Did you adopt a child this tax year? You may be able to claim a tax credit for certain expenses related to adopting a child. See the Qualified Adoption Expenses form for more information. Form 8839
Earned Income Tax Credit - If you earned less than $53,267 last year, you may qualify for EITC. The max you can get is $6,242 and you may qualify with or without children. Check out the IRS's EITC Assistant tool to see if you qualify.
Student Loan Interest - Did you pay interest on a qualifying student loan? You may be able to deduct the interest paid on these loans if you do not itemize your deductions. You must make less than $80,000 ($160,000 if filing jointly) and can only deduct a maximum of $2,500.
Education Tax Credits - There are currently two tax credits available to help with the cost of higher education. The American Opportunity Tax Credit and the Lifetime Learning Credit may reduce the amount of tax you owe. American Opportunity Tax Credit is a credit for qualified education expenses paid for an eligible student for the first four years of higher education. You can get a maximum annual credit of $2,500 per eligible student. he Lifetime Learning Credit is for qualified tuition and related expenses paid for eligible students enrolled in an eligible educational institution. This credit can help pay for undergraduate, graduate and professional degree courses--including courses to acquire or improve job skills. There is no limit on the number of years you can claim the credit. It is worth up to $2,000 per tax return.
We provide tax planning and tax preparation services for individuals and companies in the Greater Pittsburgh area including Cranberry Twp, Ross Twp, Wexford, Warrendale, McCandless, Sewickley, West View, Franklin Park and the surrounding towns & communities in North Hills PA.