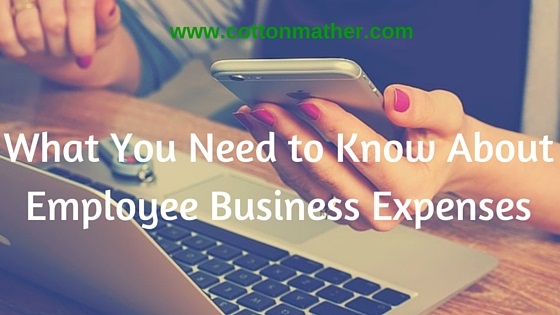 If you have encountered out-of-pocket expenses for your role as an employee in a company, our experts offer advice for claiming business expenses as a deduction on your federal income tax return.
As an employee, you may have paid for work-related expenses out of your own pocket. In many of these instances, you will be able to deduct those costs on your tax return. The IRS lets you claim allowable expenses as long as you itemize them on the IRS Schedule A. Here is everything you need to know about employee business expenses:
Do you have questions about what qualifies as a business expense? Contact Pittsburgh's best Tax Service in North Hills for local help!
1 - You can only deduct what is Ordinary & Necessary. The IRS allows you to deduct unreimbursed expenses that are ordinary or necessary to your work as an employee to the company. An ordinary expense is one that is common and accepted in your industry. A necessary expense is one that is appropriate and helpful to your business.
2 - Typical Examples of Business Expenses:
Work clothing or uniforms that are not appropriate for everyday use.
Tools or supplies that you use on the job. (i.e. laptop)
Mileage for business use of your car.
Meals & entertainment that are directly for business.
Travel expenses used for business trips.
Business use of your home.
Work-related education or classes.
*Remember that these have to be unreimbursed expenses. Special rules apply if your employer reimbursed you for any of these out-of-pocket purchases.
3 - Proper Forms to File. When filing your taxes, use either Form 2106 or Form 2106-EZ. After you figure your allowable expenses, you then list the total on Schedule A as a miscellaneous deduction. A professional tax preparer can help you determine appropriate deductions to ensure you are claiming all the expenses you are entitled to.
4 - Educators Can Claim a Special Expense. Teachers of students in kindergarten through 12th grade may be able to deduct up to $250 of expenses paid for books, supplies, classroom materials, or equipment. The good news is you claim this deduction as an adjustment on your return, rather than an itemized deduction.
5 - Don't Forget to Keep All of Your Records. It's important to keep all of your records and receipts for these deductions in case you come under an IRS audit. If you want to look at what records you should be keeping, check out Publication 17, Your Federal Income Tax.