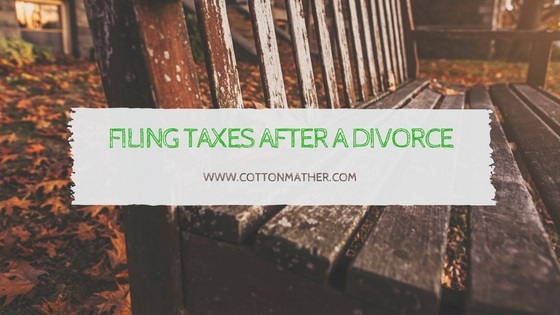 Divorce is a major life change, and may take anywhere from days to years to finalize.  However, legal and tax implications don't end with the signing of the divorce decree.  Not only can your taxes be affected during the divorce negotiations, they make be further affected afterwards as well, possibly even changing your obligations under the Affordable Care Act and any other relevant health care law. 
Could you use help with tax preparation and filing after a divorce? Contact our Pittsburgh area CPA for more info (412) 931-1617.
Here are several tips to keep in mind to help you through this process:
Alimony paid to a spouse or former spouse under a separation or divorce decree, whether or not you itemize deductions on your tax return, are deductible. In order to deduct alimony payments when filing, you must indicate the recipient's Social Security Number or Individual Taxpayer Identification Number when filing your Form 1040.  However, voluntary payments made without a separation or divorce decree are not deductible.
On the opposite side, if you are the recipient of alimony payments from a spouse or former spouse, it is taxable in the year in which it is received. Alimony is not subject to tax withholding.  Therefore, in order to avoid a penalty, it is advisable to make estimated tax payments or consider increasing the amount of taxes withheld from your wages.
Child support for tax purposes is simple; payments are not deductible for the payor and not taxable for the recipient.
Contributions made to a former spouse's traditional Individual Retirement Accounts (IRA) are not deductible If a divorce decree, alimony agreement, or other agreement for spousal support or maintenance is signed by the end of the tax year. However, you may be able to deduct contributions made to your own traditional IRA within the tax year.
If you change your name after a divorce, make sure to reach out to the Social Security Administration and file Form SS-5 to apply for a new Social Security Card. You can call (800) 772-1213, visit the Social Security Administration's website at SSA.gov, or stop by a local office for assistance in this process.  If the name on your tax return does not match your records with the Social Security Administration, your return may not be properly processed and may delay your refund.
The Affordable Care Act and other health care laws affect your taxes and are constantly changing.  Here are a few tips to help you know understand your responsibilities in case of divorce:
If you and your spouse purchased health insurance through the Health Insurance Marketplace (Marketplace), you may be eligible to receive payments of the Premium Tax Credit in advance of filing your return. If your health insurance was purchased through the Marketplace, any changes in circumstances, such as changes in name, address, income, family size, or marital status should be reported to the Marketplace after they occur.  By reporting these changes to the Marketplace, you can ensure that you receive the correct amount and type of financial assistance and avoid receiving an incorrect advance credit.
In order to avoid a financial penalty, you are required under health care law to have health insurance coverage for yourself and any dependents you claim on your tax return for every calendar month of the year, even if you lose health insurance coverage as a result of a divorce. In this circumstance, you can still purchase health insurance coverage during a Special Enrollment Period to avoid a penalty.
Many married couples enroll in the same qualified health plan for their health insurance coverage. If you do so and are legally separated or divorced during a tax year, you must both file separate tax returns and allocate policy amounts accordingly to determine both of your Premium Tax Credit amounts and reconcile any advance payments made on either spouse's behalf.