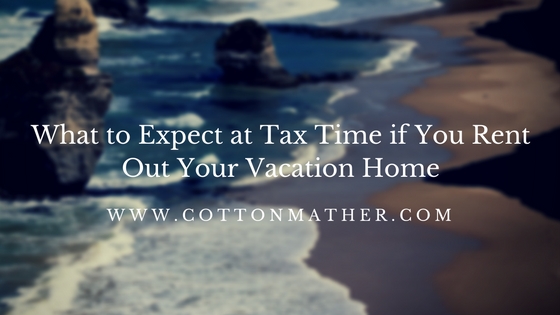 Do you rent out your vacation home? If so, that's great! It's always nice to have extra income. It is important, though, to understand your tax obligations. Our expert CPAs are here to help.

If you choose to rent out your vacation property, you may be able to make additional you may be subject to additional taxation in next tax season.  However, you do not have to report the rent as income if the rent is for a short period of time or if you use the vacation property as your home.
Need more answers on issues or questions regarding vacation rental income? Contact W Cotton Mather CPA, Pittsburgh's Tax Professionals to get answers - (412) 931-1617.
What is a vacation property?  This may be a house, condominium, mobile home, apartment, boat, or any similar property.
What is a "short period?"  The IRS defines this time period as fewer than 15 days per year.
What does it mean to use a property as a home?  This means you own the home and use it as your home over the course of the last tax year.  Therefore, if you used the property as a home and it was rented less than 15 days, you do not have to report the rental income.
If you have both personally used the property and also rented it out, special rules apply at tax time.  Expenses for the property must be divided between your personal use and expenses for rental use.  To figure out how to divide these expenses, compare the number of days for personal use and rental use to appropriately allocate the expenses.
Personal use has several meanings and applications.  It may include use by you or your family, by any other joint owners of the property and their families, and also use by any person who pays less than a fair rental price to use the home.
Pay special attention to Schedules A and E on your next tax filing.  Schedule A, Itemized Deductions, lists your deductible expenses for personal use, such as property taxes, casualty and other similar losses, and mortgage interest.  Schedule E, Supplemental Income and Loss, is where you usually report rental income and rental expenses.  Any income from renting out the property may also be subject to the Net Investment Income Tax.
Need to File Your 2015 Tax Return?
There's still time to file your 2015 tax return if you have been granted an extension. Give us a call with any questions and let us help you with any complicated tax matters.