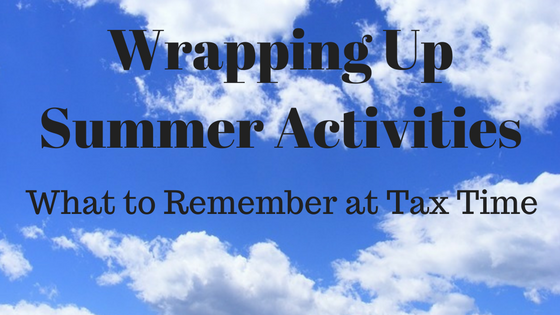 Let the tax professionals of W Cotton Mather CPA help you prepare your personal taxes and organize & include the summer activities tax deductions you've gained this year.
For many, summer is their favorite time of year as they celebrate warm weather, time off from school, and sunny days.  What many don't know is that some summer activities may even help come next April when it's time to file taxes.  Now that summer has come to a conclusion, it's time to gather up all of paperwork and receipts for things you have done over the summer that can help you prepare for tax season which is just around the corner.
Need help organizing and preparing your summer tax deductions or do you have a question on what qualifies as a tax deduction? Contact Pittsburgh's best tax service in North Hills for local help! (412) 931-1617
If you had a busy summer with a seasonal job, vacation home rental upkeep, charitable work, or even getting married, here are a few tax considerations you should remember:
Season Workers
Summer workers such as students may be exempt from tax withholding in their paychecks.  If these workers received a refund of all withheld income tax last year and expect to do so again this year, they can claim exempt on their W-4, increasing their pay and in some situations forestalling filing a return next year.  Medicare and Social Security taxes are still withheld, but not the federal income tax.            In addition, correctly classifying work status may save money and make sure workers are entitled to their benefits.  Some employers classify summer workers as self-employed or independent contractors instead of employees.  This leads to taxes not being properly withheld and an unpleasant surprise when calculating next year's tax burden.  By double checking one's work status, a summer worker saves money and avoids future headaches.
Summer Camp
Many parents arrange for their children to attend day camp while on summer vacation.  What many parents don't know that these costs may factor into calculating the Child and Dependent Care credit as an expense, unlike overnight camps.
Vacation Home Rentals
Vacation home owners who choose to stay at home and rent out their vacation homes can reap tax benefits as well.  Income from these homes rented out for fewer than fifteen days is typically not treated as taxable income, and mortgage interest and real estate taxes are often deductible if itemizing deductions.
Charitable Work
Charity can be good for the pocketbook as well.  When cleaning out the house to prepare for summer, items in good condition may be donated to a qualified charity and itemized, as long as the donator keeps receipts or other proof from the charity.  For those long distance charitable trips, driving a personal vehicle while donating service to a qualified charity can reduce the total tax burden.  Keeping accurate records of mileage on these trips may yield to some cash back for each mile driven when itemizing deductions.
Marriage
Many couples choose to get married in the warm months.  It's important that in the course of enjoying their newfound marital bliss, these couples report their name change to the Social Security Administration, report address changes to employers and the IRS, and make sure the withholding amount on their paychecks is accurate.  A couple's first anniversary shouldn't be marred with the memory of a difficult tax return because of tax details missed while enjoying a honeymoon.
Gambling Winnings
Several destinations are well known summer vacation hotspots, and several include opportunities to win big gambling.  As always, accurate record keeping is important.  Winnings from gambling are always taxable, but losses are only deductible for filers that itemize and have winnings that equal or exceed losses.
Relocation & Job Search Expenses
Summer is a great time for new beginnings.  If relocating for a new job, job-related moving costs may be deductible depending on the distance and time spent in the move.  Even if the filer doesn't itemize their deductions, they are still eligible to deduct for qualified moving expenses.
Summer Storm Disasters
Summer isn't perfect, of course; the warm weather brings powerful storms to some parts of the country.  Even if one's home is damaged in a disaster caused by storms, floods, or fire, to name a few, a casualty loss may be claimed on the tax return, especially if the county is declared a federal disaster area.  Finally, when making repairs, the energy tax credit may be available for the purchase of insulation, heating, ventilation, and cooling systems, and doors and windows to keep the newly repaired home insulated and energy efficient.