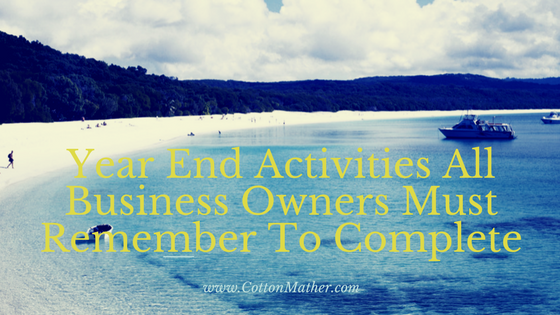 As fall rolls around and the weather begins to cool, it's a good time to remind business owners that year end tasks now need their attention. At the end of the year, most business owners are focused on the holidays, sales, and other things to help them meet their bottom line, but it is also the time when your business needs more attention, especially in regard to accounting and year end closing activities. 
Pittsburgh's most trusted small business accountants offer reliable and affordable business accounting services to help keep biz owners on track! (412) 931-1617
Here are some tasks you should focus on as the business year wraps up, according to BusinessinGambia.com:
Get your financial records in order.
Whether you're running a sole proprietorship shop with full file of receipts that haven't even been recorded in your books or a person who have access to a part-time bookkeeper, you have to ensure that all your key financial transactions are recorded before you can do anything else in a New Year. To make it simple, here are few key areas to consider:
All sales and purchases invoices/ receipts are recorded in the book
Expenses are accounted or accrued for product or services consumed but not yet paid
Review that outstanding customers' records are updated and current. Write off bad debt expenses where necessary.
Review all outstanding supplier payment list and make sure good received but not yet invoice are all recorded.
Reconcile all bank statements for any charges and to show true bank balance position.
You should have an updated list of invoices that are still unpaid. Start to follow up on the bills that are due. This will help with cash flow forecast and give you a clean start for the new year.
Prepare the financial statements for the year.
The most important step on your year end closing activities should be to prepare the business financial statements as you begin the new year. Financial statements will assess your performance and position in the year ended. A completed financial statements for a small business usually composed of three key components:
Balance Sheet – a summary of the business financial situation at a particular point ( year end). It shows all your business assets, liabilities and the owner's equity position. Balance sheet shows the liquidity of your firm as well as the key sources of your funding.
Income Statement assess the profitability of the business during the financial year. It compares the business revenues to expenses and the results is either a profit or loss.
Cash Flow Statement shows the inflows and outflows of cash in your business. Cash flow statement is generally prepared under 3 sub-headings:
Cash flow from operating activities – The core activities of the business such as normal revenues and expenses during the year
Cash flow from investing activities – It shows the fixed assets and investments purchased and sold during the year
Cash flow from financial activities – Movement in sources of finance such as new loans borrowed and loan repayments during the year. It also include any new owner cash injection
Cash flow statement is one of the most important elements business investors and lenders like to analyze. It show the real flow of cash by eliminating all accounting estimates including depreciation and accrual. It also reconcile the opening cash to closing cash position by showing the net  increase or decrease in your business's cash flow over the period.
Analyze the financial statement using common standards
Once you've prepared your balance sheet, income statement and cash flow statement, perform some basic ratio analysis to understand the results deeper. Basic ratios like current ratio, total debt ratio, efficiency ratio and profit margin tells lot about the business performance and situation. Customer receivable analysis can show the customer's bills and the number of days the bill have been outstanding.
Get your statutory documents prepared.
Compliance with regulatory requirement is one activity which every business owner should take seriously. You have to comply with the laws and regulations of the country.Using Gambia as an example, you should generally remember the following legal requirements:
Usual monthly tax returns
Annual income tax return
Renewal of business registration and permits
Renew car licenses, insurance papers and all contracts or permits that expires at year end.
Tip to Consider: You may require the service of an accountant to perform some of these tasks, so contact our team at Cotton Mather CPA for reliable assistance with business accounting & bookkeeping duties.